For the avid readers in our club, Books, Etc. offers a monthly chance to hear from authors about their works as well as discuss their own latest favorite book. For more information contact, Paula at 402-770-3007 or Ellin at 402-525-4022.
For our members who are one of the millions who enjoy making a bid, an opening lead or taking a trick all the while enjoying good company and conversation, then the monthly Bridge group is just for you. For more information, contact Jane at 402-488-8519 or Helen at 402-417-3983.
In the months with an extra Tuesday, our members take advantage of that serendipitous occurrence by getting together to play board and card games. For more information, contact Carol at 402-483-4246.
Our members that chose to participate in the Home and Away excursions are in for a treat…exploring and experiencing local and regional cultural, historic and fun sites. Unfortunately due to the pandemic Home and Away excursions are not taking place.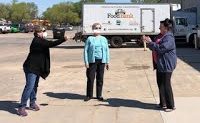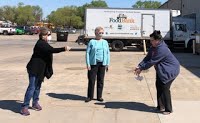 The Lincoln Music Teachers Association's Music Outreach Program was the recipient from the 1019 Holiday of Trees.  The program offers music lessons to "at risk" or needy students.
Another beneficiary of the 2019 Holiday of Trees was the Lincoln Food Bank.  $1000 was presented in April. Due to the virus, the check was sent via Air Mail.
The Heritage League celebrated the New Year with the Annual Teddy Bear Luncheon.  Admission to the Luncheon was a Teddy Bear.  The Teddy Bears were presented to Haxby's Bears.
Haxby's distributes bears to police and fire departments, hospitals, and agencies that work with children in crisis.  Pictures below are Margaret Griesen, chair of the Teddy Bear Event;  Pastor Renee from The Landing; and the Teddy Bears.
To commemorate our 50th Anniversary, a bench with plaque was placed in Trego Park.